OFFICERS & CHAIRPERSONS

The following are the Tulsa Parrot Head Club 2016 Officers and Chairpersons.  The President, Vice-President, Secretary and Treasurer are elected by the general membership.  All other positions are appointed by the board.
 PRESIDENT – Cathy Boley
Cathy and her husband David have been members of the TPHC since 1996.  She served as secretary from 2006-2009.
Cathy has had the pleasure of attending no less than 30 Buffett concerts at venues in Dallas, Frisco, Vegas, and Chicago.  But her favorite concert was a FREE concert on Galveston Beach in 1992
Her favorite Buffett songs are "Tin Cup Chalice", "Come Monday", "Who's the Blonde Stranger" and "One Particular Harbor"
VICE PRESIDENT – Jodie Rogers
I have been attending Tulsa Parrotheads since 2003, when I started working with Cathy Boley.  I did not join until 2009, slow to make any commitments.  The two things that I love about the Parrotheads is the wonderful friendships and the motto "party with a purpose".  I always feel I need a purpose to party and the Parrotheads always have a purpose.
There are many, many concerts that I have been to, but unfortunately not one of them has been Jimmy Buffet.  It is on my bucket list, so I will need to get to one soon.
SECRETARY – Rebecca Land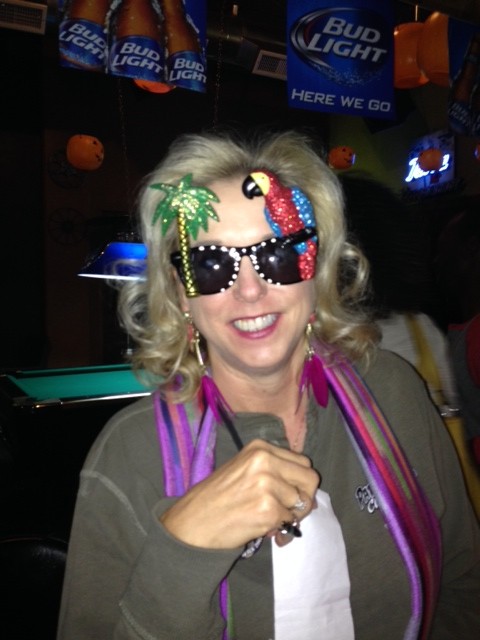 I have been a member of the Tulsa Parrot Head Club since 2009. My first concert was in 2002 in Frisco, TX, and I have been lucky enough to go almost every year since. I became a Jimmy Buffet fan back in the 70's with the release of Margaritaville and my favorite song 'If the Phone Doesn't Ring It's Me'.
I love the motto 'Party with a Purpose' we have truly made a difference in so many lives by raising money, donating time, and giving to both small and large causes and had a wonderful time doing it.
My favorite vacation is to a sandy beach with lots of sunshine and although I don't get to go as often as I would like we do spend our weekends on Grand Lake and dream of our next vacation…to the beach, of course, because like Jimmy…I gotta go where it's Warm!!
I feel very blessed to have this opportunity to serve as Secretary and look forward to making many more PH phriends!!
TREASURER – Tammi Martin
TPHC Member since August 1999.
So far….I have attended 8 Buffet Concerts.  Hope to add many more to that total. I have served as Secretary, Vice President and President. My favorite Buffet song….if I have to pick just one – "One Particular Harbor".
The reason I joined the TPHC-Besides being a major Buffett fan/beach bum type, from the first meeting I attended, I loved all the fun events and great things the club does to give back and help others.
I am beyond thankful for all the great times and wonderful friendship the TPHC has brought to me over the past few years.  Good times for a Good Cause w/Good People!