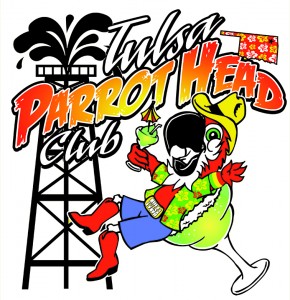 TULSA PARROT HEAD CLUB
Tulsa Parrot Head Club P.O. Box 691212 Tulsa, OK 74169
 The Tulsa Parrot Head Club is a non-profit organization whose purpose is to gather like-minded people in the celebration and appreciation of the tropical attitude depicted by the music and books of Jimmy Buffett, to assist in local community and environmental concerns, and to have a good time!
We are currently phlocking the 2nd Tuesday of every month at:
Check our website for monthly meeting location
6:30 PM until whenever you decide to leave!
Come join us for Buffett tunes, conga lines, drink specials, charity raffles, and occasional delights for your palate.  Meet new friends with common Caribbean attitudes.  Our membership dues are a mere $20.00 per person, per year.
Note:  Membership dues are not deductible as a charitable contribution for federal income tax purposes.
Our 2017 Club Officers:
President Cathy Boley
Vice President Jodie Rogers
Secretary Rebecca Land
Treasurer Tammi Martin
Contact email:  TPHC@tulsaparrotheads.com
We plan various fundraising activities for specific charities throughout the year.  If you have a charity you'd like to consider supporting – let us know.  If you have ideas about PHUNdraising – present it to one of the officers or fill everyone in at a meeting.  We prefer that events involve bunches of fun and zero stress!
Come check us out – discover our unique style of Buffettmania
 _________________________________________________________
A BRIEF HISTORY OF THE TPHC & PARROTHEADS
The term "Parrothead" or "Parrot Head" was first coined by Timothy B. Schmit, bass player of the Eagles, who was then playing in Jimmy Buffett's Coral Reefer Band.  When someone observed that the audience wore Hawaiian shirts, parrot hats and kept coming back to see the show, just like Deadheads, Schmit said they must be "Parrotheads".  The rest as they say is history.
In 1989, Scott Nickerson founded the first Parrothead Club in Atlanta, Georgia.  From those humble beginnings over 20 years ago the Parrothead nation has grown to over 200 clubs in the United States, Canada, and Australia.
The Tulsa Parrot Head Club was founded in 1993 by Dr. Howard Boos, a local chiropractor, and long-time Buffett fan.  According to TPHC archives the first official meeting took place April 12, 1993 at the Blue Rose Café.  A July 1993 article in the Tulsa World stated that the Tulsa club was the 13th officially sanctioned club in the country.  According to the Parrot Heads in Paradise National Organization website there were 7 clubs formed prior to 1993 (Atlanta, St. Louis, Connecticut, Detroit, Central Florida, NYC, and Philadelphia).  There were 6 clubs formed in 1993, but they don't give an actual date for each clubs formation.  The six clubs added that year were Colorado, Chicago, Maine, Oklahoma City, Wisconsin, along with Tulsa.
In 1993, The TPHC boasted a membership of 50.  The membership has fluctuated over the years, currently the club has about 165 members, but one thing you can count on is lots of phun when you are with this crew.  In 2013, the Tulsa club donated $15,954 to charity and volunteered over 756 hours in community service.  The total raised and/or donated nationally by all Parrot Head Clubs in 2012 was $3.5 million and volunteered 193,000 hours.
If you are ever in the neighborhood or need something to do on the 2nd Tuesday of any month, check out the Tulsa Parrot Head Club, you'll be glad you did.